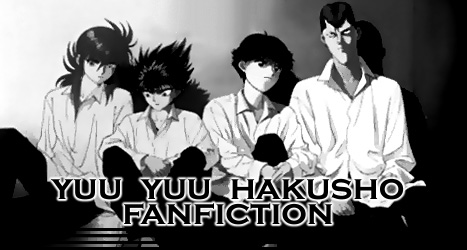 Welcome to Firedancer's YYH Fanfiction Archive.

A long time ago, when I was but a baby fan, I wrote Yu Yu Hakusho fanfiction. Then my site went down, up, and back again...eventually with the help of friends I managed to recover all of what I'd posted during my time in the fandom. I don't write Yu Yu Hakusho fanfic anymore, but here's what I wrote back then. ...You'll note it's horribly OOC and cliche-ridden, but remember. Baby fan.
---
FIRST ARC

The first Yu Yu Hakusho fic I ever wrote. Humor, sensuality, and twee to the tune of Hiei/Kurama.
One Fine Day
Liquor Sweet (This fic is for 13+)
Flipside Dreams (This fic is for 13+)
---
THE "Blood Call" ARC
Blood Call
This fic is for 18+
At the time, this was my first serious attempt at a fanfic multi-parter. Very rough work for sure. The first five chapters were updated, to an extent, in late '99-early '00. To summarize, Koenma activates "Team Urameshi" again after the conclusion of the Yu Yu Hakusho series. Much of this story is not canonical, given my limited knowledge when it was written. Some of it is humor. Also, fan-Japanese is wantonly abused.


Author's note: There was always intended to be an epilogue after this, but I never wrote it.
Burn Scar [by Zoe Sionneach. Fits into Blood Call between chapter 3 and chapter 4.]
Kurama has trouble moving past his trauma.
Sword -- Forgotten Memory
When Hiei vanishes from both Ningenkai and Makai, it's up to Kurama to find out what's going on. It's the enemies you don't remember that have a tendency to turn up unexpectedly.

---
HUMOR-FIC
---
& SUNDRY

The not-so-easily categorizable.
---
SONGFIC
Torn
my angsty Yuu Yuu songfic. ^_^ No happy ending.

Say Goodbye
Another angsty Yuu Yuu songfic. ^_^

---
back